Rose Court Cottage
Your host, Christy Laird welcomes you to Rose Court Cottage,in Arcata, United States. Comfort awaits you at this delightful retreat, in the historic heart of town. Rose Court Cottage's ideal loc...
Read more
---

Quality Inn Arcata
Welcome to the Quality Inn Arcata, conveniently located in the heart of Redwood Country on the beautiful northern coast of California in the United States. Quality Inn Arcata is off Highw...
Read more
---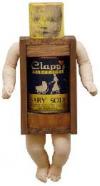 Arcata Artisans
Arcata Artisans is a fine art and craft cooperative gallery and gift shop, featuring the work of 31 local owner/members. Welcome to Arcata Artisans an art gallery in Arcata, United States. &nbsp...
Read more
---

Timber Heritage Association
The purpose of the Timber Heritage Association in Arcata, United States, is to create awareness and appreciation for the impact of timber, logging and railroads on the settlement and development of Hu...
Read more
---

Natural History Museum
The mission of the Humboldt State University Natural History Museum in Arcata, United States, through its collections, exhibits, and programs, is to inspire in North Coast residents and visitors of al...
Read more
---
» Find more in Arcata, Humboldt County