Seascape Estate and Cottage Rental
For Rent - An exclusive 1920's Georgian style home in Chester, Lunenburg County, Nova Scotia, Canada S e a s c a p e Located in the picturesque seaside village of Chester, Nova Scotia. This new...
Read more
---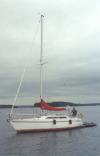 Cross Charters & Tours
Home Port - Chester, Nova Scotia, Canada. We operate 2 vessels that are available for crewed charters or tours. #1 sloop "Gabrielle II" is a 32 ft. Jeanneau Atallia. This vessel is ideal for groups...
Read more
---

Discovery Sailing Charters
Come sailing with us! You can take a CYA certified sailing course at the Intermediate or Advanced level, or enjoy a captained charter. Our sailing area second to none! Based at the Oak Island Re...
Read more
---
The Rope Loft
The historic Rope Loft, known locally as the Old Wharf, has been a landmark in Chester for nearly two hundred years and is one of the oldest buildings still in commercial use in Nova Scotia. In its ti...
Read more
---

Chester Golf Club
A beautiful point of land in Mahone bay, east of the Village of Chester, Nova Scotia, Canada, was designed by the forces of nature for a lovely golf course. prescott's Point is relatively level. An ev...
Read more
---
» Find more in Chester, Lunenburg County