Cronulla Motor Inn Hotel
The Cronulla Motor Inn Hotel, Australia, is a popular and friendly motel situated in the heart of the beautiful Sydney beachside suburb of Cronulla. Only 35 mins from Sydney Airport and 45 mins from t...
Read more
---

Rydges Cronulla Beach Hotel
Welcome to the Rydges Cronulla Beach Hotel, Australia. Each of the 84 rooms at this fine 4-star hotel feature superior amenities. Featured in each room, among other amenities, are hair dryer, clock ra...
Read more
---

Cronulla High School
Welcome to Cronulla High School, Australia. You are enrolling your child in a growing school with an excellent reputation in its community. Cronulla High School has been awarded a Director-General&rsq...
Read more
---

Club Cronulla
Welcome to Club Cronulla, Australia. The Bowls club boasts three Bowling Greens, Function Room, Bar/Lounge Area (including Dance Floor) and of course our FORTY 41 ONE DINING & FUNCTIONS. Entertai...
Read more
---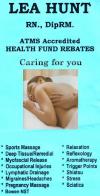 Lea Hunt
Welcome to Lea Hunt, Cronulla, Australia, a Massage Therapist and Registered Nurse. Lea Hunt,offers the following services: Deep Tissue, Relaxation, Remedial, Sport and Swedish massage. Lea Hunt's ...
Read more
---
» Find more in Cronulla, Sydney