The Norwood Hotel
At The Norwood Hotel, Winnipeg, Canada, it's the little things that make a difference like the crisp, clean sheets, a prompt wake up call, the desk clerk's friendly smile. The Hotel pays c...
Read more
---

Pantages Playhouse Theatre
Welcome to the Pantages Playhouse Theatre, Winnipeg, Canada. The Theatre opened on February 9, 1914 and has played a vibrant role in Winnipeg's performing arts community. The Pantages Playhouse Thea...
Read more
---

Fude
Welcome to Fude, Winnipeg, Canada, Inspired Cuisine & Wine Bar. Fude is just what it looks like, a twist on the ordinary, a bit of the unexpected, mixed with a healthy dose of creativity. At Fud...
Read more
---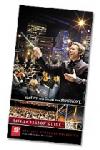 Winnipeg Symphony Orchestra
For 60 years the Winnipeg Symphony Orchestra has delighted audiences with its innovative programming and musical excellence. The Winnipeg Symphony Orchestra, Canada, has become the celebrated hub of W...
Read more
---

Amici
Amici Italian Restaurant, Winnipeg, Canada, strives to ensure that each and every one of their diners enjoys a memorable dining experience. A large number of their clientele are from all points in No...
Read more
---
» Find more in Winnipeg, Winnipeg Capital Region