Orca Dive Centre
Welcome to Orca Dive Centre, Dahab, Egypt. The Orca Dive Centre was opened in July 1998 and is a superb beach centre location with great staff and excellent equipment. The Diving Centre quickly gain...
Read more
---

Mirage Village
The Mirage Village Hotel, Dahab, Egypt is situated on the beach in the northern part of Dahab, between the Lighthouse and Eel Garden dive sites. The Mirage Village Hotel and is well known for its frie...
Read more
---

Bishibishi Garden Village
Welcome to Dahab, South Sinai, Egypt and Bishbishi Garden Village, Backpackers paradise. Bishbishi's restaurant is located in the centre of the camp and offer delicious breakfasts, creamy and thick m...
Read more
---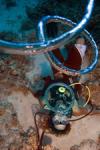 Poseidon Divers
Welcome to Poseidon Divers, Dahab, Egypt. Poseidon Divers is a long established group of dive centres that were the first PADI Career Development Centres and PADI National Geographic Centres in Dahab...
Read more
---

The Oricana Hotel
Welcome to the Oricana Hotel, Dahab, Egypt. The Oricana Hotel spreads along the main road, at the southern end of Dahab, lying in an ideal, quiet part and far away from the crowds. The Oricana Hot...
Read more
---
» Find more in Dahab, Sinai Peninsula