Hotel Locarno
Hotel Locarno, in Nice, France is located 80 meters from the famous " Promenade des Anglais " and 200 meters from the walking streets of the living center of the city. Open all year long, w...
Read more
---

Le Tire Bouchon
Located in the heart of the old Nice since 1991, Restaurant Le Tire Bouchon, in Nice, France is a typically French restaurant, and really appreciated by foreign customers. With small intimate tables,...
Read more
---

Sea View Apartment
Sea View Apartment, is a wonderful, newly-renovated and fully-equipped Vacation Homes studio apartment located in a former palace in the heart of Nice France Old Town. The Vacation Homes Sea View Apa...
Read more
---
Café de l'horloge
The Aston Golden Tulip Hotel is famous in its own right and is becoming more so as the location of Nice's trendiest restaurant, Café de l'horloge. Upscale French cuisine, including fillet of duck bre...
Read more
---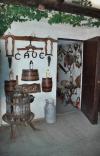 Domaine De La Source
The Wine grapes are picked at Domaine De La Source in December, when the fruit is ripe. It is one of the smallest vineyards of France, nestled in the hills of Nice France. Since 1941, "Bellet&quo...
Read more
---
» Find more in Nice, Alpes-Maritimes