Christian Plumail
Christian Plumail, is a chef with sublime Southern cuisine in Nice, France. With him, imagination failed before that the truth of the product and light compositions. At the gates of the old city and 5...
Read more
---

Hotel Paradis
Our Hotel Paradis, is right in the center of Nice, France. The Promenade des Anglais and the sea are 80 meters away. The pedestrian precinct (Rue de France & Rue Massena) begins just 20 meters awa...
Read more
---
The Chantecler
The CHANTECLER, One of the best restaurants in Nice. Michelin Guide award winning. An enchantment to the eye and the palate alike. In a dining room Regency style decoration with magnificent XVIII c...
Read more
---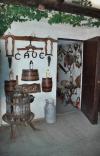 Domaine De La Source
The Wine grapes are picked at Domaine De La Source in December, when the fruit is ripe. It is one of the smallest vineyards of France, nestled in the hills of Nice France. Since 1941, "Bellet&quo...
Read more
---

Villa Med
Villa Med, is a new, luxury French Riviera villa, near the glamorous Mediterranean resorts of Nice, France Monte Carlo, Cannes, and the charming villages of Provence. Elegantly furnished and air co...
Read more
---
» Find more in Nice, Alpes-Maritimes