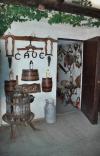 Domaine De La Source
The Wine grapes are picked at Domaine De La Source in December, when the fruit is ripe. It is one of the smallest vineyards of France, nestled in the hills of Nice France. Since 1941, "Bellet&quo...
Read more
---

Nikaia Water Sport
Nikaia Water Sports in Nice France gives you an unforgettable Watersports flight over the Bay of Angels. Explore alone or in pairs and enjoy exceptional views. Discover the disciplines practiced ...
Read more
---

Nice for Two
Vacation Homes, Nice for Two, in Nice France is a 1-bedroom apartment with sea views, right on the port of Nice, in the famous and prestigious 'Le Neptune' building. The apartment has every amenity fo...
Read more
---

Villa La Citronneraie
Villa La Citronneraie, is located on a hill of Nice France and the main-house is situated on the upper level of the property. In this main-house you find the big living room, the kitchen and 5 of the...
Read more
---

Villa Oriental
New to the rental market, Villa Oriental, in Nice France is a beautiful 5 bedroom villa with pool. Furnished entirely with Asian furniture from Hong Kong, China, Indonesia and Japan. Each room has bee...
Read more
---
» Find more in Nice, Alpes-Maritimes