La Vieille Fonderie
La Vieille Fonderie, The Old Foundry, is a totally renovated old foundry and warehouse in Montreal, Canada. Now a brand new loft condo, La Vieille Fonderie,has an outdoor pool, private park, in...
Read more
---

Hotel Le Roberval
The Hotel Le Roberval in Montreal, has 76 rooms and suites. All rooms, suites and apartments are soundproofed, air conditioned and furnished with taste so that you benefit from ultimate comfort...
Read more
---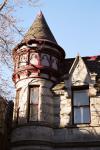 Castel Durocher
Located in downtown Montreal, Canada, Castel Durocher offers 5 luxury apartment suites that can be rented on a monthly basis. Our rates include everything, heat and electricity, telephone and ca...
Read more
---

Hotel Le St-James
Welcome to Hotel Le St James in Montreal, Canada where you will find that the Grand Salon formerly known as the 'Bankers Hall', with its two mezzanines fit for an opera, offers a relaxing atmosphere. ...
Read more
---

Sleepy Hollow Guest house
Sleepy Hollow Guest House is located on Montreal's Main St (Rue St Catherine)Eaton Center is 5 mins away shopping unlimited- universities- hospitals- business section right at the doorstep. Rooms are ...
Read more
---
» Find more in Montreal, Quebec