Lazy Bear Lodge
Welcome to the Lazy Bear Lodge, Churchill, Canada. The rustic and charming accommodation at the Lazy Bear Lodge is the newest in Churchill. Smoke-free and family-owned and operated, the Lodge offers f...
Read more
---
Blue Sky Expeditions
Welcome to Blue Sky Expeditions, Churchill, Canada. Gerald Azure is the owner/operator of Blue Sky Expeditions. Born and raised in the Northern Métis Community of Cormorant, Manitoba. He is t...
Read more
---
Aurora Inn
Welcome to The Aurora Inn, Churchill, Canada. The Aurora Inn offers spacious 2 story suites for accommodation with true northern hospitality that is centrally located and within steps of Churchill's ...
Read more
---

Seaport Hotel
Welcome to the Seaport Hotel, Churchill, Canada. Located in the heart of Churchill, the Seaport Hotel offers a total of 21 modern rooms, (smoking and non-smoking available). All rooms at the Hotel hav...
Read more
---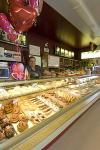 Gypseys Bakery
Welcome to Gypseys Bakery, Churchill, Canada. Whether you are in the mood for a charbroiled burger or a gourmet meal, Gypseys Bakery has it all. Owned and operated by the Da Silva family, this license...
Read more
---
» Find more in Churchill, Hudson Bay