Wapusk Adventures
Welcome to Wapusk Adventures, Churchill, Canada. Wapusk Adventures is a Churchill-owned and operated business. that focuses on hiring local mushers and helpers at Wapusk Kennels and takes pride in pr...
Read more
---

Iceberg Inn
Welcome to The Iceberg Inn, Churchill, Canada. The Iceberg Inn has eight rooms each with two twin beds, full bathroom, table, 2 chairs, small fridge and cable television. One of the rooms is wheelcha...
Read more
---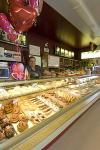 Gypseys Bakery
Welcome to Gypseys Bakery, Churchill, Canada. Whether you are in the mood for a charbroiled burger or a gourmet meal, Gypseys Bakery has it all. Owned and operated by the Da Silva family, this license...
Read more
---
Blue Sky Expeditions
Welcome to Blue Sky Expeditions, Churchill, Canada. Gerald Azure is the owner/operator of Blue Sky Expeditions. Born and raised in the Northern Métis Community of Cormorant, Manitoba. He is t...
Read more
---
Tamarack Rentals
Welcome to Tamarack Rentals, Churchill, Canada. If you are looking for a convenient, independent and adventurous way to explore around Churchill, the Polar Bear/Beluga Whale capital of the world and a...
Read more
---
» Find more in Churchill, Hudson Bay