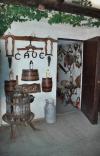 Domaine De La Source
The Wine grapes are picked at Domaine De La Source in December, when the fruit is ripe. It is one of the smallest vineyards of France, nestled in the hills of Nice France. Since 1941, "Bellet&quo...
Read more
---

Tara Jarmon
An encounter : between a businessman, David Jarmon, and a young and lovely Canadian student, Tara. They combined their talents and gave birth to a project : a line of clothing. He manages it, she is i...
Read more
---

Hotel Anis
...
Read more
---

Hotel Les Cigales
In the charming atmosphere of a fully renovated former hotel, in the heart of Nice, 150m from the sea and the casino Ruhl, Hotel Les Cigales, in Nice, France offers you its hospitality. You will appr...
Read more
---
Hotel Negresco
Built in 1912, overlooking the famous Bay of Angels, and classified a National Historic Monument in 1974, the Hotel Negresco, in Nice, France is one of the few remaining privately owned palaces still ...
Read more
---
» Find more in Nice, Alpes-Maritimes