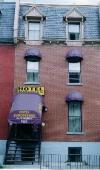 Hotel Europeenne
The Hotel Europeenne is a newly constructed hotel in the heart of Montreal, Canada. We offer comfort, cleanliness, and a friendly atmopshere at a low price. Hotel Europeenne is a short walk fro...
Read more
---

Hotel Le Roberval
The Hotel Le Roberval in Montreal, has 76 rooms and suites. All rooms, suites and apartments are soundproofed, air conditioned and furnished with taste so that you benefit from ultimate comfort...
Read more
---

Gibbys
The entrance archway to Gibbys in Montreal, Canada, stands on what was once the south bank of the Little St. Pierre River near the original Huron settlement of Hochelaga. Visits to the site by the ear...
Read more
---

La Conciergerie
La Conciergerie, founded in 1985, is located in the heart of Montreal, Canada, is close to most major points of interest including Old Montreal, the Latin Quarter and St. Denis street. You are within ...
Read more
---

Le Selkirk
Whether in Montreal, Canada, for work or play, allow yourself to benefit of a little extra sleep knowing that you are just minutes away from all that Montreal has to offer. Let the natural light ent...
Read more
---
» Find more in Montreal, Quebec